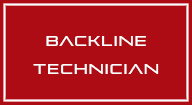 The work for a Backline Technician can vary from time to time but in a short term you are responsable for puting togheter our backline as requested, transport, unloading and setting up, soundcheck it with the sound team, make sure the artist is happy with the setup and be "spot on" during the performance to making any necessary adjustments, be responsible for looking after the backline during while on tour.
Skills: Knowledge of playing an instrument or instruments at least to a basic standard, good knowledge of music hardware and software such as MIDI systems, computer music software, mixing consoles and FX units. Keeping up to date with the new technology in the music industry is essential. Experience counts, have the ability to do simple maths calculations and be able to understand and interpret written material such as diagrams, plans and schedules, solve issues on the fly.
Requirements: Organized, B licence, alcohol/drug free on the job, deal with all kinds of people no matter reace or color, speaking fluent English.
Employment Type: Part time.
Job Location: On the road, mainly in Finland but also abroad.
Salary: Daily wage.
For consideration please send us your resume or a brief description of your past experiences stating your area of interest to info(@)stahl.fi