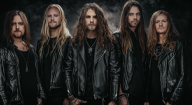 From the nation's capital Stockholm hails Dynazty, already a melodic hard rock household name in their native Sweden. The band was founded in 2007 and reached its current formation a year later with the addition of ace vocalist Nils Molin. To date the band has released five albums, toured internationally, zigzagged Sweden and performed in the insanely popular Swedish Eurovision song contest qualification, Melodifestivalen event".
Latest album "Titanic Mass" was released in April 2016 to international critical acclaim".

Dynazty has invited melodic hard rock of the 80's band Nubian Rose from Sweden as special guest and Finnish 80's Rock/AOR band Wake the Nation has been chosen as support act.
Video: The Human Paradox | Starlight | Cross the Line | Sultans of Sin
Agent: Thomas Ståhl for STAHL INC. (Exclusive representation for Finland)
Links: Dynazty site | Dynazty facebook
No upcoming shows by this artist in territory represented by STAHL Entertainment Ltd.