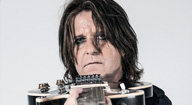 Kee Marcello is one of the most renowned guitarists out of Scandinavia with an amazing track record. He's best known as the guitarist of the biggest rock exports out of Sweden to date, Europe. In the late '80s and early '90s Europe were one of the biggest rock bands in the World. They sold over 30 million albums. Kee is also the founding member of the sleeze rock band Easy Action.
Kee Marcello is a unique artist in the Hard Rock genre. He has never stopped evolving and growing as both a writer and a guitarist and the new album shows how much he managed to raise the bar yet again with both his guitar playing, singing and writing.
Kee Marcello is using his past as a springboard and takes a giant leap into the future! With the new music firmly grounded in the songwriting tradition that made him a multiplatinum rock star in the first place, Kee explores the boundaries of Melodic Hard Rock with contemporary performance and a cracking production.
___
Links: Kee Marcello facebook | Official merchandise
Video:Fix Me | Don't Miss You Much | Black Hole Star | Scaling Up | Dog Eat Dog | Redluxe: Europe | The Harder They Come | BumbleKee | Superstitious | Prisoners in Paradise
Agent: Thomas Ståhl for STAHL Entertainment (Exclusive representation Worldwide)
___
No upcoming shows by this artist in territory represented by STAHL Entertainment Ltd.