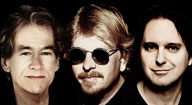 Hello everyone,
This is Bill Champlin writing to you from Los Angeles, California.
My wife Tamara, and Joe Williams and I we're so looking forward to playing a series of concerts and club dates in Scandinavia and Europe in late January through mid February. I have taken on the task of letting you know that we've had to cancel the dates. I've had a radical surgery in the last 2 weeks and have found out that I need to stay near the Doctors and hospital for the next 3 to 4 months for follow up treatments. A few years ago I had a bad week that ended with a pacemaker being installed in my chest and I was on the road a week later with Danny Seraphine's CTA playing 2 shows a night in New York City, I expected that this time it would be the same. I was very wrong. The surgery itself left me very weakened and the residual treatments will do the same. I'm so sorry if this has put you out and I guess there will be a way to get your money back for any tickets that you purchased. My sincerest apologies go out to Peter Friestedt, my favorite guitarist, Joseph Williams, my singin' partner, Tamara Champlin, my wife and other singin' partner, Stefan Gunnarson, one bad boy on keys, and the rest of the band. We were just getting ready to start rehearsing and putting a show together for you and all this medical news landed on me. I was even trying to put off my treatments until after Mid- February but my Doctors strongly suggested that I deal with this now. Thomas Stahl had put together a great little tour for us and I'm hoping that he doesn't ever get the blame for this, he's been a great friend to me for years. It's all on me. Maybe we'll be lucky enough to get back over as soon as I'm up and running. I love that part of the world because the listeners on this side of the "Pond" just have better ears. I love you all, Be good, Bill Champlin
Cancelled dates are:
27 Jan - The Ritz - Vaasa, Finland
28 Jan - Hotel Lappland - Lyckselse, Sweden
30 Jan - Hard Rock Cafe - Oslo, Norway
01 Feb - Frimis Salonger - Örebro, Sweden
03 Feb - Liljan - Borlänge, Sweden
04 Feb - Babel - Malmö, Sweden
05 Feb - Roxy Club - Flensburg, Germay
07 Feb - KulturFabrik - Hannover, Germay
08 Feb - Felsenkeller - Leipzig, Germay
10 Feb - Le Forum - Paris, France
Purchased tickets can be refunded at the respective place of purchase, earliest from Wednesday 21st of December and latest the day before concert. Some promoter might provide a replacement artist.
We are very sorry for this and the possible problems this might have caused the promoters and ticket buyers, but right now the most important thing is Bill´s health and we all hope for a quick recovery.
Thomas Ståhl

CWF is a West Coast AOR supergroup teaming up Toto's Joseph Williams with former Chicago vocalist Bill Champlin and guitarist/producer Peter Friestedt.
Joseph Williams - Vocals
Bill Champlin - Vocals & Organ
Tamara Champlin - Backing vocals
Peter Friestedt - Guitar
Stefan Gunnarsson - Keyboards
Johan Granström - Bas
Johan Franzon - Drums
Video: Runaway (live in Tokyo June 2016)
EPK | Aria | Nightfly | Carry On | Going Home | After The Love Is Gone
Agent: Thomas Ståhl for STAHL INC. (Exclusive representation for Europe, Russia and CIS Countries)
No upcoming shows by this artist in territory represented by STAHL Entertainment Ltd.