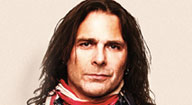 The Legendary frontman and songwriter of 80´s White Lion and 90´s Freak of Nature. A life of no limits, rules or compromises, Mike Tramp has gambled his life and given his heart and soul to rock n roll. Museum is the title of his latest solo album, release date, August 18th 2014.
Videos: EPK 2014 | Trust in Yourself | Wait | Broken Heart | When the Children Cry
Agent: Thomas Ståhl for STAHL INC. (exclusive representation for Finland)
Links: Mike Tramp site | Mike Tramp facebook
No upcoming shows by this artist in territory represented by STAHL Entertainment Ltd.