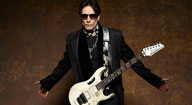 While many musicians fit easily into a single category, Steve Vai's unique musical vision remains unclassifiable. After more than 20 years, Vai continues to use unbridled guitar virtuosity and soulful artistry to explore the spectrum of human emotion.
Join us for an adventurous evening in Helsinki with iconic rock guitarist and composer Steve Vai when we blow apart the boundaries between various styles and explore music in its many forms and surprising combinations. This is a great program for rock and classic-lovers alike.
Video: For the Love of God | The Crying Machine | Live concert 2012 from Minneapolis |
Agent: Thomas Ståhl for STAHL INC. (exclusive for Finland)
Links: Steve Vai site | Steve Vai facebook
No upcoming shows by this artist in territory represented by STAHL Entertainment Ltd.