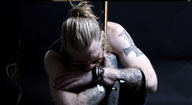 Singer and guitarist from Helsingborg, Sweden started performing on stage at the age of five. His musical career encompasses grunge, rock, metal and blues.
Jay Smith became known to a wider audience after winning Swedish Idol 2010 and has since then been touring Sweden, Norway and Finland both solo and together with his former band Von Benzo.

Jay's solo first album "Jay Smith" (2010) has sold platinum and topped Swedish music charts. In 2011 he released the album "Yes Kids It's True" with Von Benzo, the band's second album, the first being "Von Benzo" (2009).
The new solo album "King Of Man" was released in early December 2013. The first single "King Of Man" with his new band was released in October 2013 and the first week it soared to 1st place on iTunes Rock charts in Sweden and immediately became the most shared song on Spotify Sweden.
www: Jay Smith
Video: King of Man | Idol 2010 compilation
Agent: Thomas Ståhl for Stahl Entertainment Group Ltd. (Finland)
Agent: Isak Snow for Gain Booking (Exclusive, except Finland)
No upcoming shows by this artist in territory represented by STAHL Entertainment Ltd.