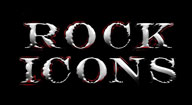 Millions and millions of fans all over the world have have in decades enjoyed the amazing music from classic rock bands such as Rainbow, Deep Purple, Journey, Mr. Big, Chicago, Starship and Foreinger. The songs that truly are the soundtrack of generations.
Imagine that you could see a live concert with not only one but up to four of the legendary singers from these bands, telling the stories and performing their biggest hits together, now it is possible, they are ROCK ICONS.
Names like Joe Lynn Turner, Steve Augeri, Eric Martin, Bill Champlin, Mickey Thomas, and Lou Gramm, just to name a few Icons together with a 4 piece band that consists of P-O Nilsson, Søren Andersen, Ken Sandin and Pontus Engborg.
ROCK ICONS deliver a stunning hit parade performing their classic hits.
Video: EPK 2014 | Stone Cold live 2014 | Wild World live 2014
Agent: Thomas Ståhl for STAHL INC. (Exclusive representation Worldwide)
Links: Rock Icons facebook
No upcoming shows by this artist in territory represented by STAHL Entertainment Ltd.