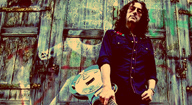 Australian guitarist Gwyn Ashton brings his one-man blues army extravaganza to town in a Black Keys/White Stripes/Seasick Steve mould - with all manner of electric and acoustic guitars including open-tuned National steel, 12-string, harmonica and Hawaiian lap slide. He never uses a set list or backing tracks.
Ashton's use of fuzz guitar, bass drum, octave pedals and electronic self-generated loops, along with his ancient Strat and steel National guitar, brings the whole blues genre into the 21st century. His live show is loud, up-tempo and in-your-face, dragging his audience into a 1950s Chicago blues bar and when he slows down his softer use of dynamics and guitar mastery is second-to-none.
Video: Blues Live
Agent: Thomas Ståhl for STAHL INC. (Exclusive for Scandinavia)
www: Gwyn Ashton site | Gwyn Ashton facebook
No upcoming shows by this artist in territory represented by STAHL Entertainment Ltd.