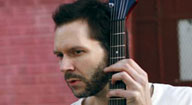 From platinum album sales and number one chart success as a founding member of MR. BIG, to astonishing the guitar community with new levels of ferocious picking technique with shred-pioneers RACER X, to exploring punk, pop, classical, blues, jazz, and progressive instrumental styles in his solo career, Paul Gilbert has recorded a massive amount of stunning guitar music, all while circling the globe to play sold-out arenas from Japan to Jakarta.
Paul's style stands out for it's rare combination of accuracy, creativity, and power – all which are balanced with Paul's sense of humor and pure love of music.

In addition to his solos tours, Paul has also toured with Joe Satriani's G3, played in a host of tribute concerts with legendary drummer Mike Portnoy, and been integral in the design of his signature Ibanez PGM and Fireman guitars. Paul was the youngest instructor at Hollywood's Guitar Institute of Technology at the age of 18, and still finds time to teach there, as well as at his Online Rock Guitar School for Artistworks, and by writing columns for guitar magazines all over the world.

The UK's GUITARIST magazine chose gave Paul the honor of "Solo of the Year" for his song "Atmosphere on the Moon" on his newest album, VIBRATO.

VIBRATO has received stellar reviews not only in guitar magazines, but also in drum magazines due to the amazing drumming of Thomas Lang. Paul will be bringing Thomas Lang, bassist Kelly LeMieux, and keyboardist Emi Gilbert to play with him on his 2013 world tour. Paul says, "This is the same band that recorded the studio tracks on myVIBRATO album. We had a great chemistry in the studio, but it's going to be even more exciting live, on stage. Everyone is a world-class player, and the vocal harmonies are sounding amazing too. Of course, we'll be doing a lot of songs from the new album, but we'll mix in some favorites from my past albums, and many new surprises as well."

Paul has done three extensive European solo tours as a solo artist, as well as a recent tour with Mr. Big in 2011. "It's been a few years since I've been to Europe with my own band. I've got so many new ideas as a guitarist. I can't wait to play for everyone!"
Video: Enemies (In Jail) | Gettin´Betta | Live solo 2011 (Mr. Big)
Links: Paul Gilbert site | Paul Gilbert facebook
No upcoming shows by this artist in territory represented by STAHL Entertainment Ltd.