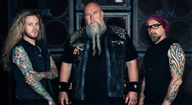 Founded in 1984, German heavy metal band RAGE established themselves as a notable successful band and as pioneers of the Power Metal scene, including in their music elements of Progressive Metal and Classical Music.
In July 2017 Rage released their 24rd studio album, simply titled "Seasons of the Black" through Nuclear blast. Rage will hit the road to support the album in Jamuary 2018.


Video: Seasons of the Black | The Devil Strikes Again | My Way | Down
Links: Rage site | Rage facebook
Agent: Thomas Ståhl for STAHL INC. (Exclusive representation for Finland and Scandinavia)

No upcoming shows by this artist in territory represented by STAHL Entertainment Ltd.