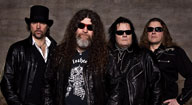 From Helsinki, Finland with raw attitude and influenced by the likes of Motörhead, Thin Lizzy and a range of Southern Rock and Blues Rock bands all the way from The Allman Brothers to ZZ Top. "The Boy Band from Hell" has toured with Lemmy and company as well as Aerosmith and Deep Purple.
2013 LOS BASTARDOS FINLANDESES return to the fray with their fifth album "Day of the Dead" and it was a bastard year for the Bastardos (Bryn Jones, Twist Twist Erkinharju, Olli Kykkänen & Ben Granfelt). It started well with their debut UK tour in February followed by a triumphant warm up for Lynyrd Skynyrd. Then "Motor Rock Meltdown" the single from their previous album received the third highest approval ratings ever from Finland's Radio Rock listeners.
IT'S 100% PROOF THAT YOU CANNOT KEEP A GOOD BASTARDO DOWN!
www: Los Bastardos Finlandeses
Video: Day of the Dead | Desperado | Last Call for Rock´n Roll | Acapulco | Saved by Rock´n Roll
Motor Rock Meltdown
Agent: Thomas Ståhl for Stahl Entertainment Group Ltd. (Exclusive, except Finland)
Agent: Jussi Kylliäinen for Raskun Talli. (Finland)
No upcoming shows by this artist in territory represented by STAHL Entertainment Ltd.