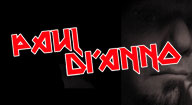 Okay, Paul Di´Anno is the orginal lead singer of Iron Maiden, Pioneers of the "New Wave of British Havy Metal" and achieved massive success during the early 1980s.
After leaving Iron Maiden in 1982 Di'Anno has issued numerous albums over the years, as both a solo artist and as a member of such bands as Gogmagog, Di'Anno's Battlezone, Praying Mantis, and Killers.
And throughout his career he has toured around the world, only in 2012, he will visit 3 continents and perform over 100 times at various clubs and festivals. 2014 seams to be tha same.
Video: Running Free | Wrathchild | Iron Maiden | Killers | Phantom of the Opera
Links: Paul Di´Anno site | Paul Di´Anno facebook

No upcoming shows by this artist in territory represented by STAHL Entertainment Ltd.