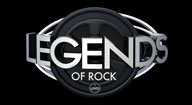 VAASA SHOW POSTPONED DUE TO WEATHER CONDITIONS ON THE BALIC SEA!
It is with great sadness and disappointment I write this message, we were just recently contacted by Vaasa Line ferry company and they announced that the ferry from Umeå to Vaasa today can not leave the port of Umeå on time because of strong winds on the Baltic. This results in at least a 5 hours delay, which means that Legends will not arrive to Vaasa before midnight today and tonight's gig at The Ritz has to be postponed. Will be back with info about purchased ticketas and new date during tomorrow, monday.

Thomas Ståhl on behalf of Legends - Voices of Rock
Millions and millions of fans all over the world have enjoyed the amazing music from classic rock bands such as Journey, Toto, Chicago, Deep Purple, Rainbow and Kiss! The songs that truly are the soundtrack of generations.
Imagine that you could see a live concert with not only one but up to five of the legendary singers, performing their biggest hits together backed by a hand picked top musicians world class band of famous top musicians led by Tommy Denander on guitar.
Our Legendary singers include Grammy winning and million selling names like Bobby Kimball (orginal lead singer of Toto), Fergie Frederiksen (ex. Toto), Bill Champlin ( formerly of Chicago), Steve Augeri (ex. Journey), Joe Lynn Turner (ex. Deep Purple, Rainbow, Yngwie Malmsteen), Graham Bonnet (ex. Rainbow, Alcatrazz), Eric Martin (Mr. Big), Jimi Jamison (ex. Survivior) and now also on guitar Bruce Kulick (Kiss) on the same stage at the same time performing their biggest hits together... Now it is possible!
NOTICE: Legends kicked off the Japan tour on the 6th of June 2012 in Nagoya, and yes it was SOLD OUT!
www: Legends
Video: Legends EPK | Live in Vienna April 2013 | Carmen | You´re not Alone | Message
Agent: Thomas Ståhl for Stahl Entertainment Group Ltd. (Exclusive Worldwide)
No upcoming shows by this artist in territory represented by STAHL Entertainment Ltd.