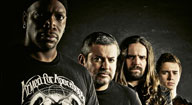 Brazilian-based metal legends SEPULTURA have been giving fans a reason to bang their heads since 1984. Mixing syncopated rhythms with American thrash metal licks, the quartet have gained a strong following over the years despite numerous lineup changes, most notably the departure of brothers/founding members Max and Igor Cavalera. Forging ahead as they've done for years, you have to experience this band live on stage to understand the fascination that this South-American act holds. And Sepulturas current songs always indicate the future of heavy metal. Sepultura are ready to hit the road in March 2012 for their first major Eastern European and Baltic tour in quite some time.
Video: Convicted for Life | Refuse/Resist
Links: Sepultura site
No upcoming shows by this artist in territory represented by STAHL Entertainment Ltd.