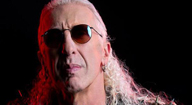 Singer, songwriter, co-founder and spectacular frontman of the great rock band Twisted Sisters is back with a new solo album "For The Love Of Metal" set to be released July 27th 2018 via Napalm Records.
Dee Snider also hits Finland with 5 dates in December backed up by Rock Icons Band, more to come.
____
Links:
Dee Snider site | Dee Snider facebook
Video:
We're Not Gonna Take It
Agent:
Thomas Ståhl for STAHL INC. (Non-exclusive representation)
____
No upcoming shows by this artist in territory represented by STAHL Entertainment Ltd.