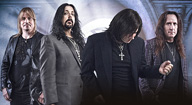 House of Lords on tour in Europe April/May 2018 with brand new album "Saint of the lost Souls".
After listening to House of Lords demos, Gene Simmons signed them to his record label Simon Records in 1986. Their self-titled debute album released in 1989. a record which is still regarded as one of the best Arena Rock releases of the 80's.
With their sophomore release entitled "Sahara", House of Lords gained considerable chart success with their cover version of Blind Faith's "Can't Find My Way Home". After a tour with Nelson in 1991, the group disbanded, eventually coming back together with a new lineup (only featuring original members Giuffria and Christian) in 1992 with "Demon's Down". This was a more melodic record which saw the big contribution at the songwriting helm - between others - of Mark Baker, a guy who penned a couple of years before the majority of the Signal "Loud and Clear" album, one of the most sought after gems of the Melodic Rock genre.

With the change of the musical climate, House of Lords went into hibernation until the original lineup came back together in 2000, releasing of the controversial "Power and the Myth" an album which featured a sound leaning more towards Progressive Hard Rock with 70's rock influences.
Fast forward to September 2011 which will mark the release of the newest addition to a stellar catalogue of songs. BIG MONEY, is well, 'BIG'. The album starts with the trademark vocals of James Christian and crashes into a Power Rock Classic that you will not forget after the first listen, followed by in a song that Christian describes "as the band's best work to date": "One Man Down". Each song has its own distinct quality as you would expect from The Lords and once again the album is full of soaring choruses, awesome guitar work and songs that grab you from the first listen and don't let go. James teamed up again on the songwriting with long-time friend and partner Mark Baker along with the other band memmbers Jimi Bell and BJ Zampa.
Video: Harlequin | Go to Hell | Precious Metal | Battle | Someday When | Metallic Blue | Love Don't Lie
What's Forever For | Can't Find My Way Home
Agent: Thomas Ståhl for STAHL INC. (Exclusive representation for Europe, Russia and CIS Countries)
Links: House of Lords facebook