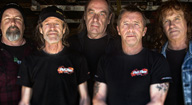 Phil Rudd has appeared on all but three of AC/DC's 17 studio albums, which have sold more than 200 million copies worldwide and toured the world for over 40 years. Phil Rudd recorded his first debut album 'Head Job' in 2016 and now he is bringing his band to Europe in March through May 2017.
Video: Repo Man | Head Job
Links: Phil Rudd Site
Agent: Thomas Ståhl for STAHL INC. (Representation for Finland, Sweden & Denmark)
No upcoming shows by this artist in territory represented by STAHL Entertainment Ltd.