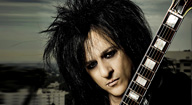 Grammy Award winning guitarist, songwriter and composer Steve Stevens, one of the most original guitarists to emerge from the 80's rock scene, is perhaps best known for his 30-year partnership with Billy Idol, his work on Michael Jackson's "Dirty Diana," on Vince Neil's "Exposed" and his Grammy-award winning "Top Gun Anthem".
His critically acclaimed solo album "Flamenco a Go Go" showcased another facet of Stevens talents on guitar, merging his passion for flamenco guitar with his formidable skill as a rock guitarist & songwriter.
Billy Idol fans will recognize his solo piece "Dementia" as one of the highlights of their live performances.
Stevens also performs some of his most famous songs from movie soundtracks including "Pistolero" from "Once Upon a Time in Mexico" & "Top Gun Anthem", Songs from his outstanding solo-album "Memory Crash" and his hits with Billy Idol including "Rebel Yell", "White Wedding" and more.
Joined by guitarist Ben Woods, a true master of flamenco guitar known for his Flamenco-Metal style & arrangements, Uriah Duffy (Whitesnake) on Bass and Michael Bennett (Slash, Richie Kotzen, Stevie Wonder, Bruno Mars) on drums.
___
Links:
Steve Stevens facebook
Video:
Live clip 2012
Agent:
Thomas Ståhl for STAHL INC. (Exclusive representation for Nordic countries)
___
No upcoming shows by this artist in territory represented by STAHL Entertainment Ltd.